Welcome to Our Company !
A company you can trust and rely upon for availing finest quality Rivets...

About Us
Rajesh Rivet Industries, is an ISO 9001:2008 certified company, which aids the process of Riveting on a large scale by catering finest grade Rivets to the customers. The company is operating as a Manufacturer and Exporter which takes complete pride in sufficing the demands of the customers.
Welding, Bolting or Brazing, we all know that these three methods of fastening are some of the most trustworthy and dependable methods which gives an assurance of strength. And among the aforesaid methods, Riveting is a type of fastening which is highly considered in order to attain the strongest union of parts after joining together.
The types of rivets we offer to the customers include Copper Rivets, Aluminum Rivets, Mild Steel Rivets, Aluminium Rivets, Stainless Steel Rivets, Stainless Steel Rivets and Brass Rivets to name a few. We are a company which is impressively productive when it comes to making outstanding quality of rivets. And this high productivity is a result of efforts of our employees and the machines and equipment we provide them to achieve finesse in their engineering tasks. Aforesaid is the attribute of our manufacturing facility, and to complement our overall productivity, we have maintained a sound infrastructure which is segregated into several other units. Each unit is integrated with experts and they operate in a highly cooperative manner so that we can keep up our pace and work in a streamline manner. Below are listed some of the departments which we have maintained in our facility:-
Accounting department
Quality checking unit
Logistics wing
Research and development department
Quality Assurance
Knowing that rivets are primarily used to attain a strong bond between the parts, we ensure that the products we make are highly dependable and trustworthy to their nature. A sound TQM (Total Quality Management) System is maintained by us which is operated by a team of professionals who undertake each of their task with utter sincerity. These experts take complete pride in monitoring, surveying and examining each of the task which we execute in our facility, as for them perfection is the only thing which should be maintained at our end and in each of the wing of our facility. Their contribution towards attaining unmatched quality is one of the key reasons that has led us to earn ISO 9001:2008 certification.
Our Values
The values of our company essentially lies among the morale of our business associates, Clients, employees and each of the other individual remotely engaged with us. We work with utmost faith so that we can keep those personnel satisfied and highly motivated so that the company can succeed and grow.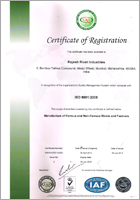 RAJESH RIVET INDUSTRIES
Fact: 6, Bombay Talkies Compound, Malad (West), Near Lok Sewa Transport, Malad (West),Mumbai - 400064, Maharashtra, India
Phone :91-22-28895871/28885322
Fax :91-22-28885322
Mr. Vijay S. Duggad (Partner)
Mobile :+919320113375, +918600714374